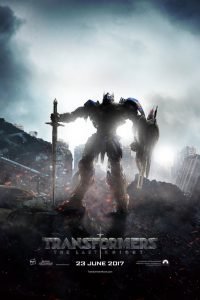 Transformers serisinin 5. filmi The Last Knight, bir önceki film Age of Extinction'ın bıraktığı yerden devam ediyor. Serinin Michael Bay tarafından yönetilen 5. ve son filmi olan The Last Knight Haziran 2017'ye kadar gösterime girmeyecek.
Yönetmen: Michael Bay
Senaryo: Art Marcum, Matt Holloway, Ken Nolan, Akira Goldsman (Hikaye)
Oyuncular: Mark Wahlberg, Stanley Tucci, Anthony Hopkins, John Turturro
Tür: Aksiyon, Macera, Bilimkurgu

loading...